Aqara Curtain Driver E1 Track Version
10,990 L
Aqara Curtain Driver E1 është pajisja më e re nga  AQARA Zigbee.
Thjesht varni drejtuesin e perdes në shina dhe filloni të shijoni kontrollin e automatizuar të perdeve tuaja ekzistuese bazuar në motin, kohën ose manualisht nga aplikacioni.Bateri jetëgjatë deri në 1 vit, sensorë drite dhe disa versione kontrolli. Përshtatet me një gamë të gjerë produktesh smart dhe mund të marrë komanda me zë. I thjeshtë për t'u instaluar dhe përdorur.
Përshkrim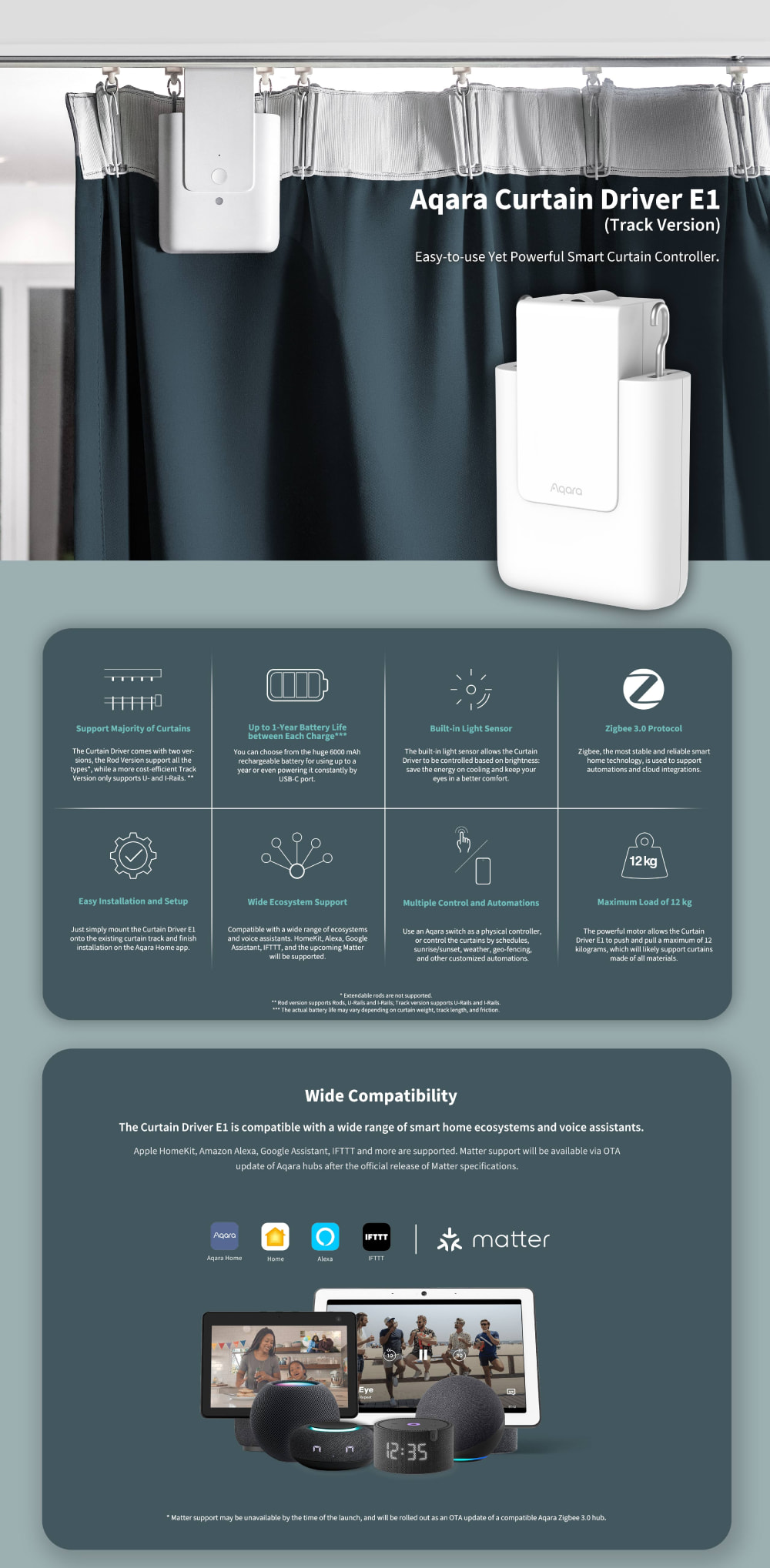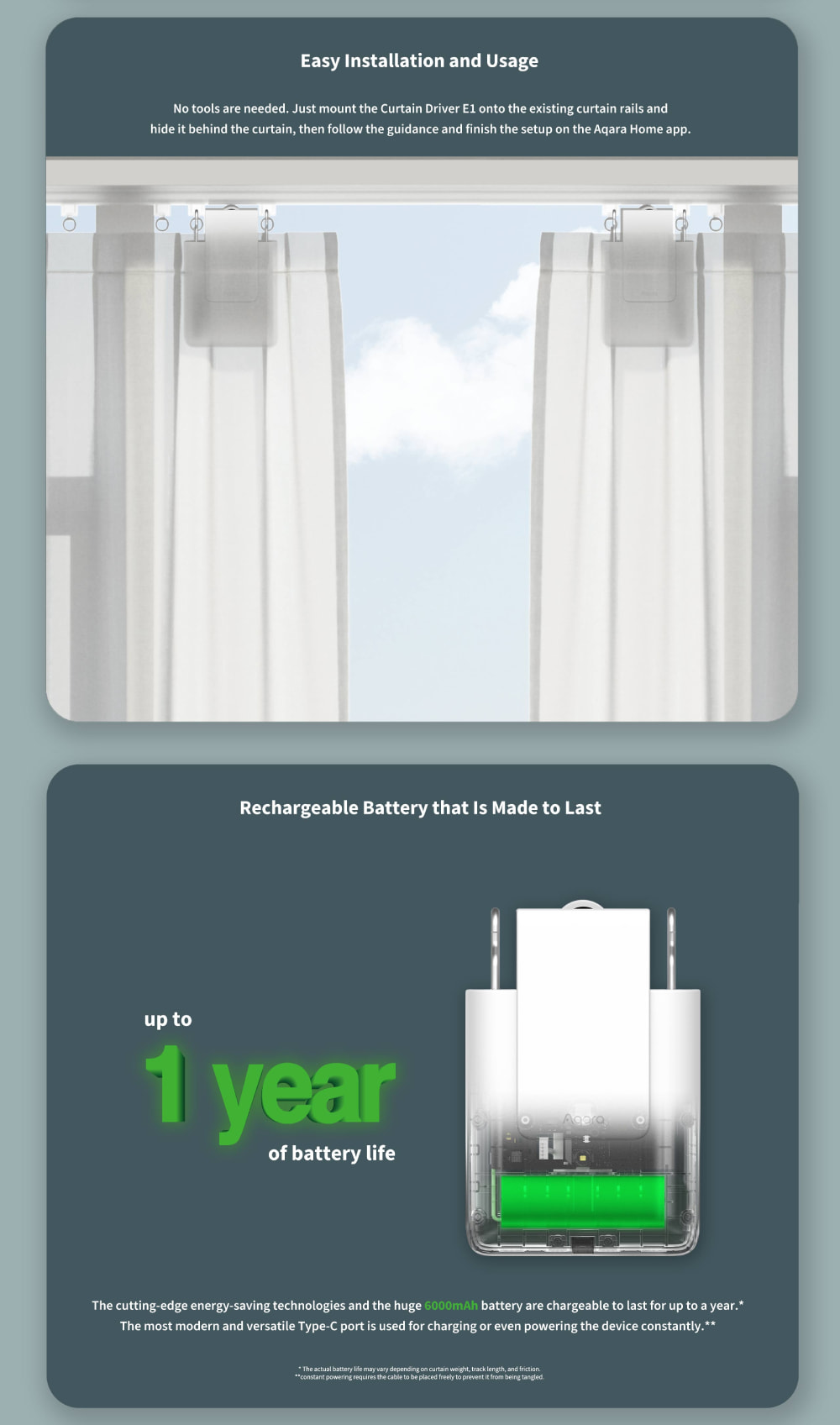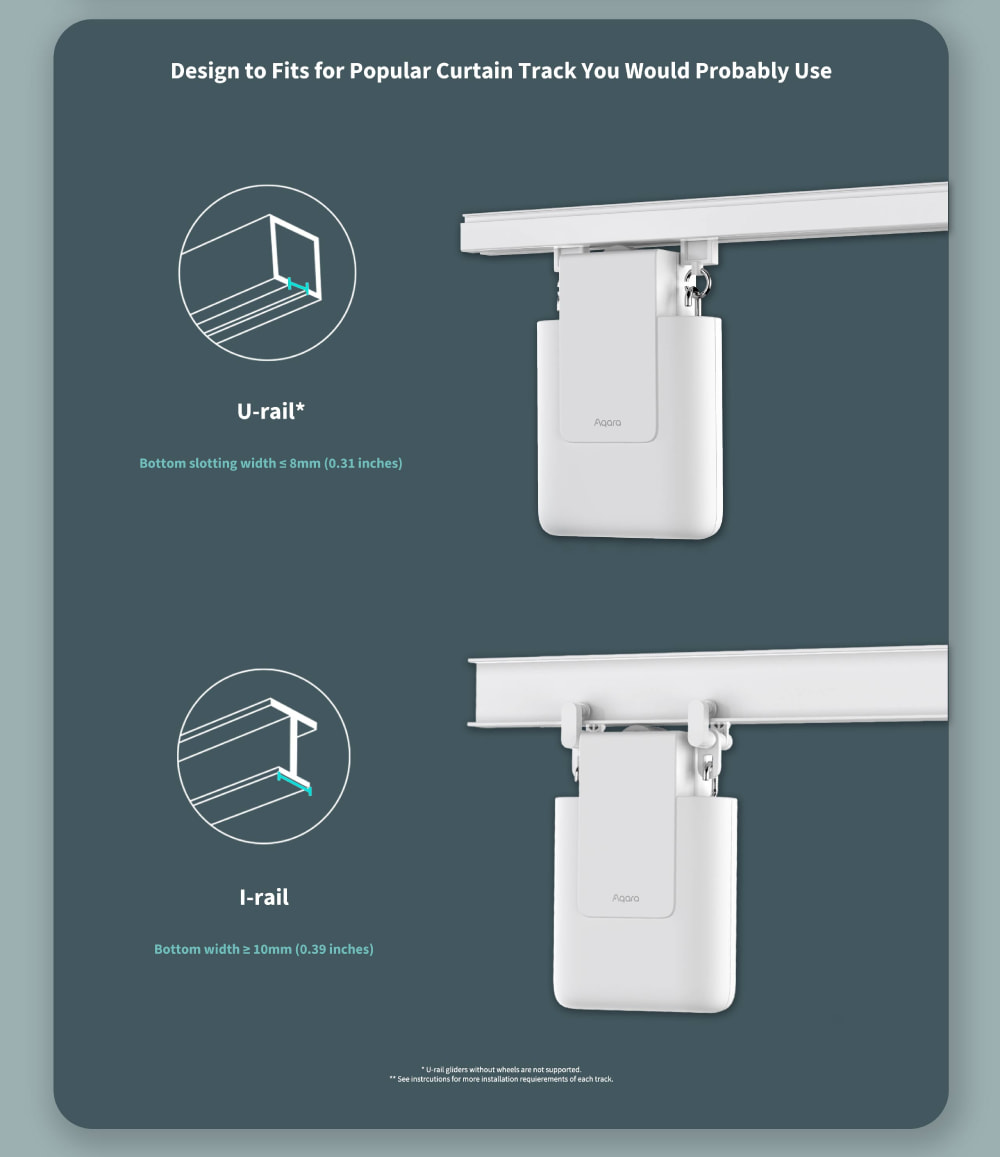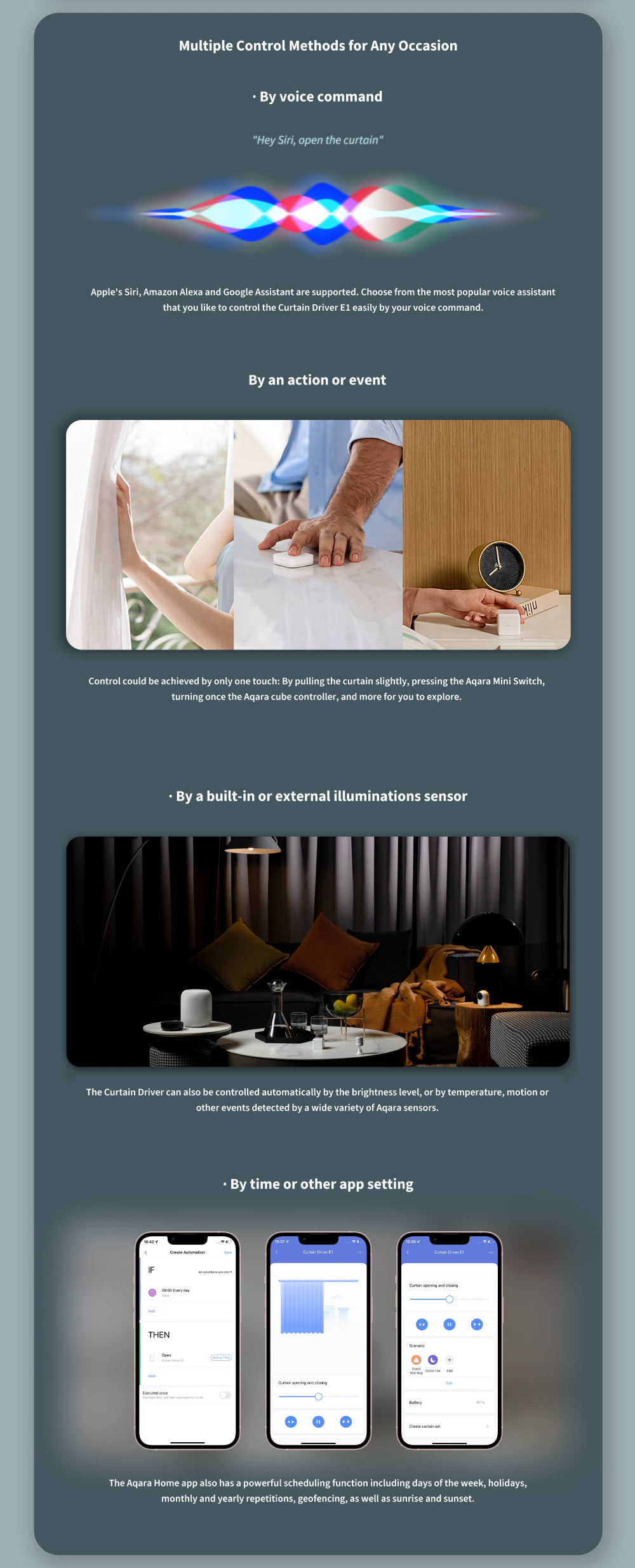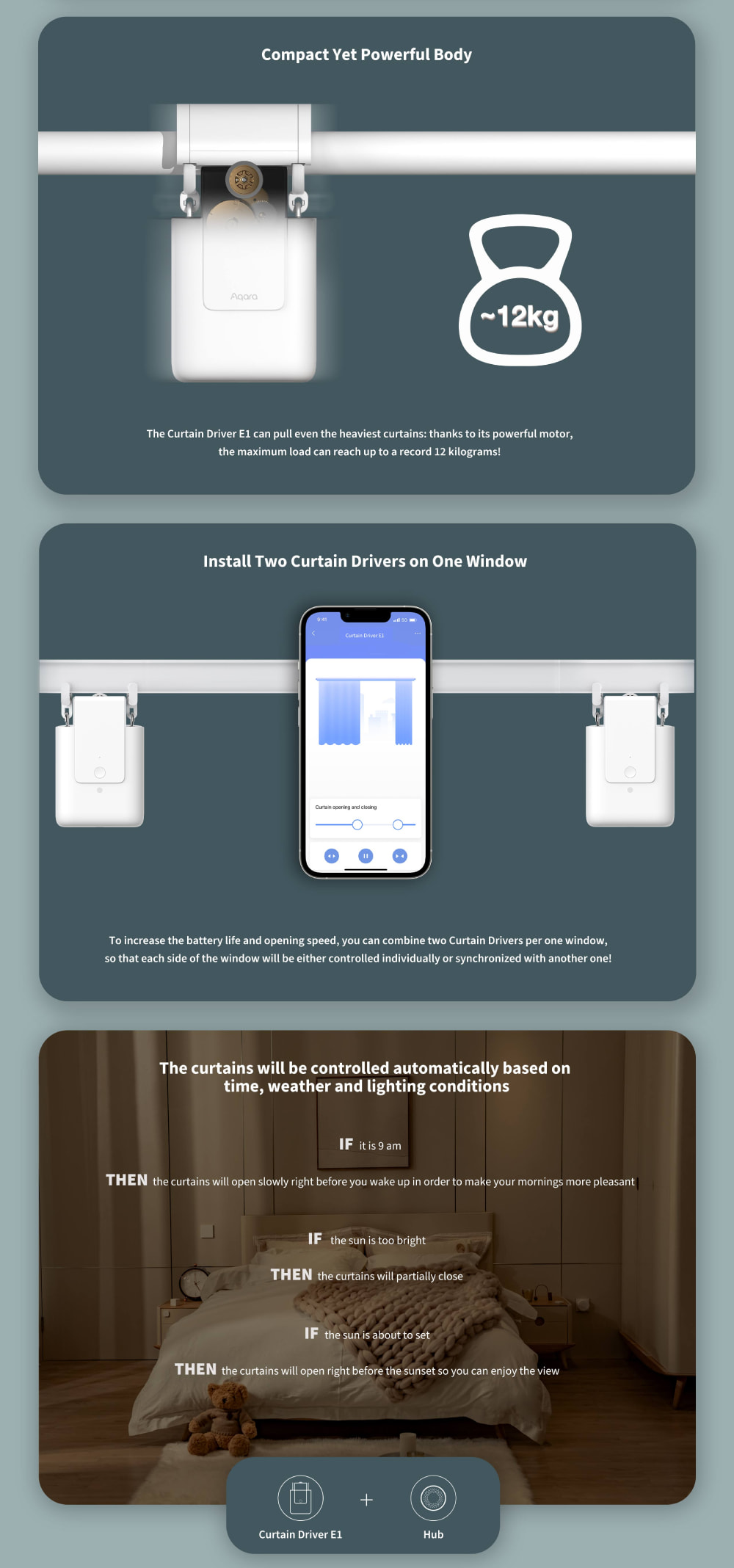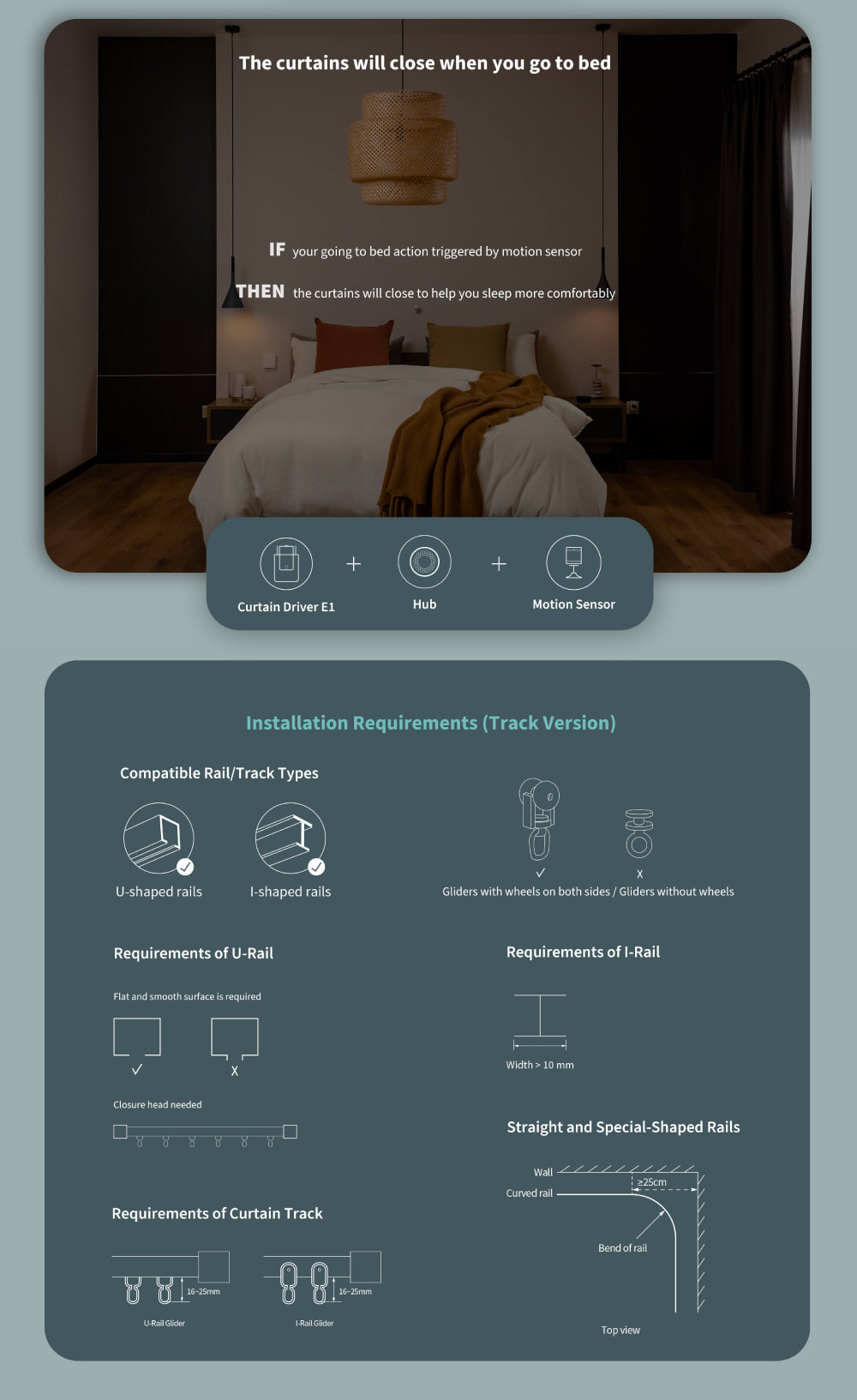 Informacion i detajuar
Battery Type
Lithium battery (not replaceable)
Features
•Up to 1-Year Battery Life: Energy-saving technologies make the Curtain Driver E1 apparently the most long-lasting controller of its type. You can forget about charging it for up to a year.
•Zigbee 3.0 Protocol: Enjoy the benefits of the fastest, most stable, and energy-efficient smart home technology. Better stability and compatibility (more standardized protocol), longer support, and more features.
•Popular Curtain Rail Support: The Curtain Driver E1 supports practically any type of curtain rails or tracks. Track Version only supports U- and I-Rails.
•Built-in Light Sensor: The built-in light sensor allows the Curtain Driver E1 to be controlled automatically based on the actual brightness: if it's too bright outside, the curtains will open by themselves and vice versa!
•Maximum Load of 12 kg: The Curtain Driver E1 can pull even the heaviest curtains: thanks to its powerful motor, the maximum load can reach up to the record 12 kilograms!
•Easy Installation: The installation is very fast and does not require any additional tools: the Curtain Driver can simply be mounted onto the existing curtain rails.
•USB-C for Charging or Power Supply: The most modern and versatile Type-C port is used for charging or even powering the device constantly. (Please note: constant powering requires the cable to be placed freely to prevent it from being tangled).
•One-Button Remote Control: Thanks to the Aqara Home app, the full operation of your curtain can be done by pressing only one button, such as the Aqara Mini Switch. Alternatively, Aqara Cube T1 Pro can be used to adjust the open rate by turning.
•HomeKit and Other Ecosystem Support: Compatible with the most popular ecosystems and can be controlled by voice. HomeKit, Alexa, Google, IFTTT, Alice, Marusya are supported.
•Device Grouping Support: You can choose between one or two Curtain Drivers per window. In case of installing two, they will be able to be grouped together so that they open the curtains simultaneously!
•Smart Home Automations by Time, Weather, and More: Connect the device to the Aqara Home app, and you will be able to forget about operating the device manually: after configuring the automations, it will be controlled by time, weather, or other Aqara devices!
•Adjustable Opening Speed: The speed of the motor can be adjusted, so it will work more silently and open the curtain slowly to make your waking up more comfortable.
Informacione për paketimin
1 x Curtain Driver E1
1 x USB-A to USB-C Cable
1 x Track Glider
1 x User Manual