BEST DEALS
Canon EOS 5D Mark IV EF 24-105mm f/4L IS II USM Lens Kit
369,990 L
Canon 
EOS 5D Mark IV
Pavarësisht se çfarë po regjistroni, të jeni të sigurt për një cilësi imazhi pa kompromise dhe një rendiment të përgjithshëm profesional.
I ndërtuar për të performuar në çfarëdo situate, EOS 5D Mark IV është i ndërtuar bukur dhe një pajisje gjithëpërfshirëse krejt e arritur.
Që nga momenti kur drita kalon përmes lentes, kamera EOS 5D Mark IV kap çdo nuancë, çdo ngjyrë, çdo detaj. Canon ka sjellë përsëri dimensionet më të mira në detaje falë një sensori të ri të aftë për një qartësi të jashtëzakonshme. Shikojeni botën si kurrë më parë.
Kamera EOS 5D Mark IV përfshin veçoritë e përparuara të fokusimit dhe matjes, të cilat kapin momentet dhe i ndjekin në çastin që ndodhin, edhe në kushte të vështira të ndriçimit.
Përshkrim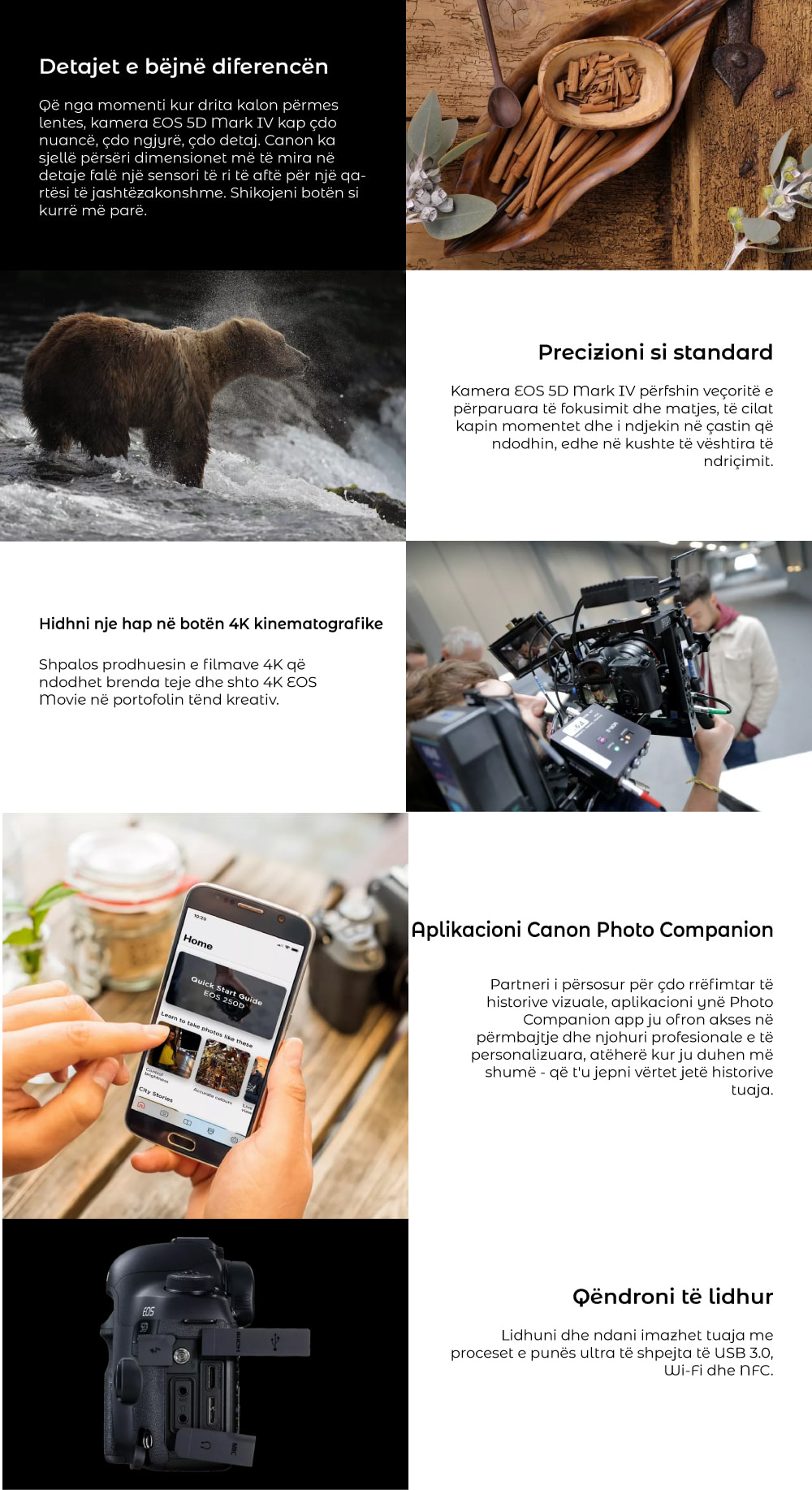 Informacion i detajuar
Aspect Ratio
3:2 (Horizontal: Vertical)
Color Filter System
RGB primary color filters
Low Pass Filter
Installed in front of the image sensor, non-detachable
Dust Deletion Feature
Self Cleaning Sensor UnitRemoves dust adhering to the low-pass filter.Self-cleaning can be done automatically when the power is turned on/ off.After the cleaning is performed, the camera will automatically restart (Power OFF to ON).When you use Multi Shot Noise Reduction, "Clean now" cannot be selected.Dust Delete Data acquisition and appendingThe coordinates of the dust adhering to the low-pass filter are detected by a test shot and appended to subsequent images.The dust coordinate data appended to the image is used by the EOS software DPP to automatically erase the dust spots.Manual cleaning
Recording Format
Complies with Design rule for Camera File System 2.0 and EXIF 2.3
Image Format
Still Image: JPEG, RAW (14 bit Canon Original)
Video: MOV (4K video: Motion JPEG; Full HD and HD Movie: MPEG4 AVC/H.264*; Audio: Linear PCM), MP4 (Movie: MPEG4 AVC/H.264*; Audio: AAC)
* Variable (averaged) bit rate.
Recording Functions
StandardSelect manually to record on either the CF card or SD card.Auto switch cardWhen the current card becomes full, the camera switches to the other card automatically.Record separatelyThe CF card and SD card record the same image at a different image recording quality (Large/Fine, Large/Normal, Medium/Fine, Medium/Normal, Small 1/Fine, Small 1/Normal, Small 2, Small 3, RAW, mRAW, sRAW).Record to multipleBoth the CF card and SD card record the same image at the same image recording quality (Also applies to RAW+JPEG, mRAW+JPEG, and sRAW+JPEG).
File Numbering
The following three types of file numbers can be set:Continuous numberingThe numbering of captured images continues even after you replace the card.Auto resetWhen you replace the card, the numbering will be reset to start from 0001. If the new card already contains images, the numbering will continue from the last recorded image in the card.Manual resetResets the file number to 0001, and creates a new folder automatically.
RAW + JPEG Simultaneous Recording
Picture Style
AutoStandardPortraitLandscapeFine DetailNeutralFaithfulMonochromeUser Defined 1-3In Scene Intelligent Auto, [Auto] will be set automatically.[Standard] is the default setting for [User Def. 1-3].
Settings
Auto (Ambience priority/White priority), Daylight, Shade, Cloudy*, Tungsten Light, White Fluorescent Light, Flash, Custom (Custom WB), Color Temperature
* Effective also in twilight and sunset.
Auto White Balance
Option between ambience priority and white priority settings
Color Temperature Compensation
Blue/amber bias: ±9 levels
Magenta/green bias: ±9 levels
Corrected in reference to the current WB mode's color temperature.
Color Temperature Information Transmission
Eye Point
Approx. 21mm (at -1m-1 from the eyepiece lens center)
Dioptric Adjustment Correction
Adjustable from approx. -3.0 to +1.0 m-1 (dpt)
Viewfinder Information
Displayed with transparent liquid crystalAF point informationAF operation*Area AF frameMetering mode*Spot metering circleImage quality*Electronic level (dedicated indicator)*Digital Lens Optimizer*Battery (remaining capacity)*Dual Pixel RAW setting (shooting)*Shooting mode*Flicker detection*White balance*Warning symbolDrive mode*AF status indicatorYou can select whether or not to display the asterisked items [Show/hide in viewfinder].
Depth Of Field Preview
Enabled with depth of field preview button
AF Points
AF Points (Max. 61 points)The number of AF points, cross-type AF points and dual cross-type AF points vary depending on the lens used.
AF Working Range
Conditions: One-Shot AF, at 73°F/23°C, ISO 100
Focusing Modes
AutofocusOne-Shot AFPredictive AI Servo AF (AI Servo AF III)AI Focus AFSwitches between One-Shot AF and AI Servo AF automatically.Manual focus
AF Point Selection
Single-point Spot AF (Manual selection)Single-point AF (Manual selection)The checkmark cannot be removed from this option.AF point expansion (Manual selection, 4 points: Up, down, left and right)AF point expansion (Manual selection, surrounding 8 points)Zone AF (Manual zone selection)All AF points divided into nine focusing zones.Large Zone AF (Manual zone selection)All AF points divided into three focusing zones.AF point Auto selection AF
Selected AF Point Display
Selected AF Point Display
Active AF Point Indicator
Displayed in viewfinder with transparent LCD and on LCD panel
AF Assist Beam
EnableDisableIR AF assist beam only
Exposure Control Systems
(1) Scene Intelligent Auto
(2) Program AE (shiftable)
(3) Shutter-priority AE (Safety shift possible)
(4) Aperture-priority AE (Safety shift possible)
(5) Manual exposure
(6) Bulb
(7) Custom shooting mode C1, C2, C3
ISO Speed Range
Manual setting (During viewfinder shooting)For [Highlight tone priority], the settable ISO speed range will be ISO 200–32000.ISO speed safety shift possible with Custom Function.Auto setting (During viewfinder shooting)*1 It depends on [Minimum] and [Maximum] of [ISO speed settings] [Range for stills].
*2 If fill-in flash will cause overexposure, ISO 100 or a higher ISO will be set (except for M and B).
*3 In the mode, if you use bounce flash with an external Speedlite, ISO 400–1600 will be set automatically.
AE Lock
(1) Auto AE lock
·In the One-Shot AF mode with evaluative metering, AE lock takes effect when focus is achieved.
(2) Manual AE lock
·With AE lock button. (AE lock is updated each time you press the button.) Enabled in all metering modes.
Shutter Speeds
1/8000 to 30 sec., bulb (Total shutter speed range. Available range varies by shooting mode.)
X-sync at 1/200 sec.
Shutter Release
Soft-touch electromagnetic release
Self Timer
10-sec. self-timer, 2-sec. self-timer
EOS Dedicated Speedlite
E-TTL II autoflash with all EX Series Speedlites
Zooming to Match Focal Length
Flash Exposure Compensation
±3 stops in 1/3- or 1/2-stop increments
External Flash Settings
External flash controlFlash firingE-TTL II Flash meteringFlash sync. speed in Av modeFlash modeRadio transmission wireless flash shootingOptical transmission wireless flash shootingFlash ratio controlZoomSync settingFlash exposure compensationFEBClear settingsFlash Custom Function setting
Drive Modes
Single shootingHigh-speed continuous shootingLow-speed continuous shootingSilent single shootingSilent continuous shooting10-sec. self-timer/remote control2-sec. self-timer/remote control
Continuous Shooting Speed
High-speed continuous shooting: Max. approx. 7.0 fpsWith 1/500 sec. or faster shutter speed, maximum aperture (varies depending on the lens), with a fully-charged Battery Pack LP-E6N, and at room temperature (73°F/23°C).The maximum continuous shooting speed will decrease under the following shooting conditions:[Anti-flicker shoot.: Enable] results in maximum approx. 6.6 fps.[Dual Pixel RAW: Enable] and RAW or RAW+JPEG image quality.[Digital Lens Optimizer: Enable] will greatly decrease the continuous shooting speed.The continuous shooting speed may become slower depending on the shutter speed, aperture, subject conditions, brightness, lens, flash use, temperature, battery type, remaining battery level, etc.With the AF mode set to One-Shot AF and the Image Stabilizer turned off when using the following lenses: EF 300mm f/4 L IS USM, EF 28-135mm f/3.5-5.6 IS USM, EF 75-300mm f/4-5.6 IS USM, EF 100-400mm f/4.5-5.6L IS USM.In AI Servo AF operation, the continuous shooting speed may become slower depending on the subject and the lens used.If you use Battery Pack LP-E6 and shoot in low temperatures (battery temperature is low), the high-speed continuous shooting speed may become slower.The continuous shooting speed may become slower if the remaining battery level is low or if you shoot under low-light conditions.Low-speed continuous shooting: Max. approx. 3.0 fps
Silent continuous shooting: Max. approx. 3.0 fps
Shooting Modes
Still photo and video recording
Metering Modes
Evaluative metering 315-zone (21 x 15)Partial metering (approx. 6.3% of Live View screen)Spot metering (approx. 2.7% of Live View screen)Center-weighted average meteringAE lock possible. The active metering timer can be changed.
Metering Range
EV 0-20 (at 73°F/23°C, ISO 100)
File Format
MOV:
4K Video*: Motion JPEG
Full HD/HD Movie: MPEG-4 AVC/H.264Variable (averaged) bit rateAudio: Linear PCM
MP4:
Movie: MPEG-4 AVC/H.264Variable (averaged) bit rateAudio: AAC
File Size
Recording Sizes:
4096 x 2160 (4K)*, 1920 x 1080 (Full HD), 1280 x 720 (HD)
Frame Rates
MOV:
4096 x 2160 (4K)*: 30 fps (29.97 fps) / 24 fps / 23.98 fps
1920 x 1080 (Full HD): 60 fps (59.94 fps) / 30 fps (29.97 fps) / 24 fps / 23.98 fps
1280 x 720 (HD): 120 fps (119.9 fps)
MP4:
1920 x 1080 (Full HD): 60 fps (59.94 fps) / 30 fps (29.97 fps) / 24 fps / 23.98 fps
*4K requires the following write speed requirements: CF UDMA7 (100MB/sec. or faster); SD UHS-I (90MB/sec. or higher)
Continuous Shooting Time
Continuous Shooting TimeMOV
MP4Bit rate indicates video output only, audio is not included.
For both MOV and MP4, if the recording time reaches 29 min. 59 sec. (or 7 min. 29 sec. for a HD High Frame Rate Movie), the movie shooting will stop automatically.
With MOV and MP4, movie shooting does not stop automatically stop even when the file size reaches 4 GB.
Focusing
Dual Pixel CMOS AFManual focusMagnify the image by approx. 5x or 10x and focus manually (not possible during movie shooting).
Exposure Compensation
Up to ±3 stops in 1/3-stop increments
Type
TFT color, liquid-crystal monitor
Monitor Size
3.2-inch (Screen aspect ratio of 3:2)
3.19 in./8.10cm diagonal (2.65 in./6.74cm width, 1.77 in./4.49cm height)
Pixels
Approx. 1.62 million dots
Coverage
Approx. 100%
Viewing angle: 170° vertically and horizontally
Brightness Control
AutomaticManually adjustable to one of seven brightness levels
Coating
Clear View LCD IIAnti-smudge coatingAnti-reflection coating
Interface Languages
25 (English, German, French, Dutch, Danish, Portuguese, Finnish, Italian, Norwegian, Swedish, Spanish, Greek, Russian, Polish, Czech, Hungarian, Romanian, Ukraine, Turkish, Arabic, Thai, Simplified/Traditional Chinese, Korean, Japanese)
On LCD Monitor
Electronic level indicates up to 360° roll and ±10° pitch in 1° increments.Precision has a margin of error of up to 1° for ±10°, and up to 3° for ±45°.
In Viewfinder
Electronic level indicates up to 7.5° roll left/right and ±4° pitch in 1° increments.Precision has a margin of error of up to 1° for ±10°, and up to 3° for ±45°.
Display Format
Single image display:No information displayBasic information displayDetailed shooting information display
Basic shooting information
Lens/histogram information
White balance information
Picture Style information 1
Picture Style information 2
Color space/noise reduction information
Lens aberration correction information 1
Lens aberration correction information 2
GPS information
IPTC information (First for EOS)
Index display:4-image index9-image index36-image index100-image index
Highlight Alert
With single-image display (Info.) and single-image display, the white areas with no image data will blink.
Items
Pressing the Quick Control button displays the Quick Control screen during viewfinder shooting, Live View shooting, movie shooting and playback.
Image Protection and Erase
Protection
Erase protection can be applied or canceled for a single image (select image), all images in a folder or all images in the card.
Erase
Erase a single image (playback and erase image), selected images, all images in a folder or all images in a card.
Compatible Printers
Images can be sent via Wi-Fi® to a PictBridge-compatible (Wireless LAN) printer and printed.
Printable Images
Individual imagesSpecify images by folderSpecify all images in cardRAW images and movies cannot be specified for printing.
DPOF: Digital Print Order Format
DPOF
Compliant to DPOF Version 1.1
Compatible Images
JPEG imagesRAW imagesMovies
Custom Functions
17 Custom Functions settable with the camera
Custom Controls
Functions can be assigned to the following buttons:Shutter button halfway pressingAF-ON buttonAE lock buttonDepth of field preview buttonLens AF stop buttonMulti-function buttonSET buttonMain DialQuick Control DialMulti controllerAF area selection button
Camera User Settings
Current camera settings can be registered to C1, C2 and C3 on the Mode Dial.
USB Terminal
SuperSpeed USB (USB 3.0)For computer communicationFor WFT-E7 (Ver.2.0) connectionFor Connect Station CS100 connection
Video Out Terminal
HDMI Type C (Resolution switches automatically), CEC compatibleImages can be displayed through the HDMI output and on LCD monitor at the same time.Images will not be displayed unless [NTSC] or [PAL] is properly set according to the video system of the TV set.
Battery
Battery Pack LP-E6N (or LP-E6) x 1With the AC Adapter + DC Coupler, AC power is possible.When the Battery Grip BG-E20 is used, two battery packs (LP-E6N or LP-E6) can be installed.
Battery Life
Battery Life (Approx. Number of Shots)Based on CIPA testing standards.
Battery Check
Automatic battery check when the power switch is turned ON. Displayed in 6 levels.Battery level displayed on the LCD panel and in the viewfinder.One of six levels displayed for LP-E6N and LP-E6. The display for other power sources is different.
Power Saving
Power turns off after the set time (1, 2, 4, 8, 15 or 30 min.) of non-operation elapses.Even when you set the date, time or zone and 1, 2 or 4 min. is set, it will take 6 min. for auto power off to take effect.
Date/Time Battery
Built-in secondary battery
When fully-charged, the date/time can be maintained for approx. 3 monthsRecharge time: approx. 8 hr.The recharge time required to provide the above number of months with no battery pack installed.
Start-up Time
Approx. 0.96 secBased on CIPA testing standards
Dimensions (W x H x D)
Approx. 5.93 x 4.58 x 2.99 in. / 150.7 x 116.4 x 75.9mm
Weight
Approx. 31.39 oz. / 890g (Including battery, CF card and SD memory card)
Approx. 28.22 oz. / 800g (Body only; without battery, card, body cap and eyecup)
Working Temperature Range
Informacione për paketimin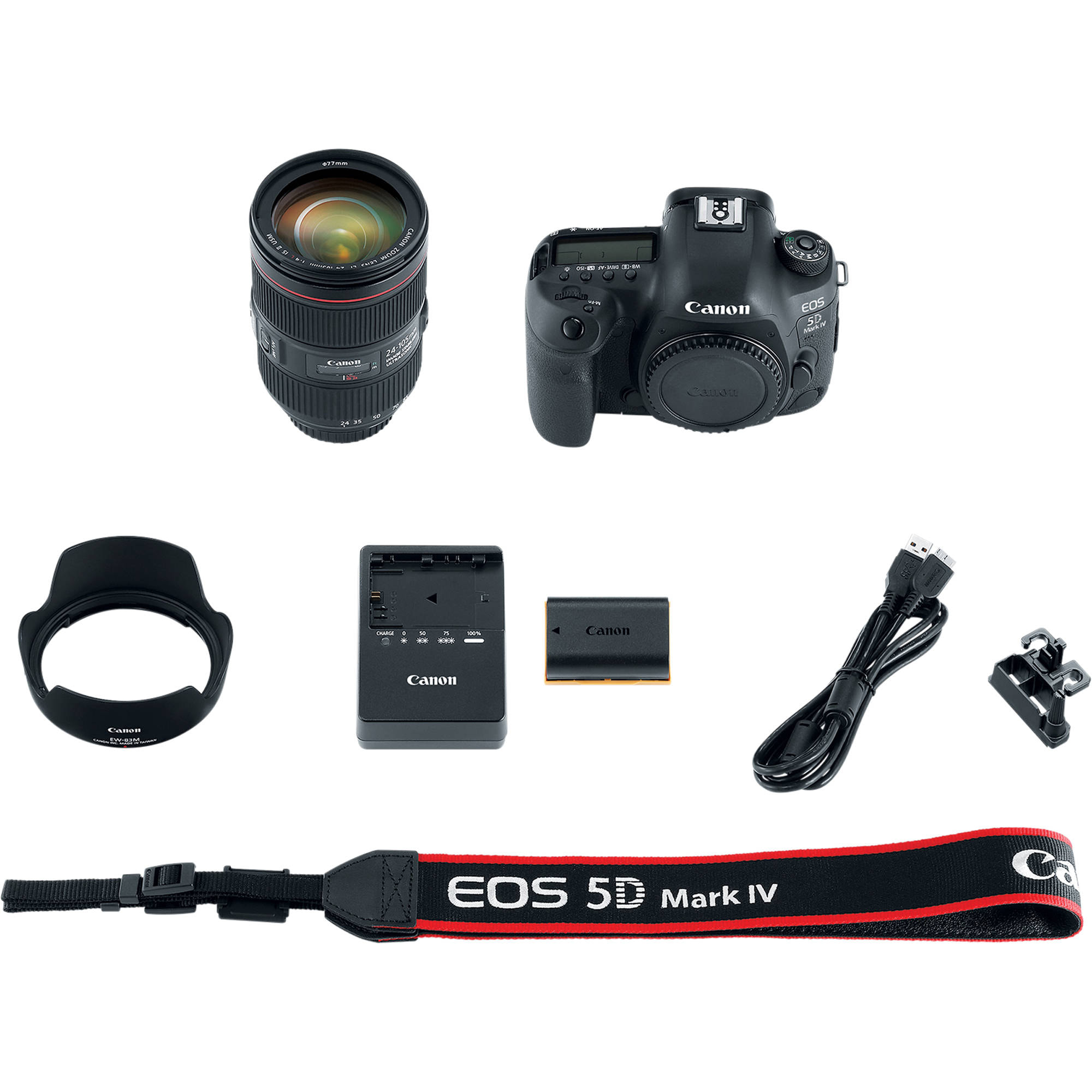 1x EOS 5D Mark IV Body
1x Battery Pack LP-E6N
1x Battery Charger LC-E6
1x Eyecup Eg (Not shown)
1x Wide Strap
1x EF24-105mm F4L IS II USM
1x Lens Cap E-77 II
1x Lens Dust Cap E
1x Lens Hood EW-83M
1x Cable Protector
1x Interface Cable IFC-150U II