Razer Seiren Elite Streaming Microphone
18,900 L
Të jesh një vloger do të thotë të lidhesh me audiencën përmes perspektivës tënde unike. Pavarësisht nëse po ndani teori lojërash ose çfarëdo informacioni tjetër, zëri është arma juaj më e fortë. Tani mund të shkëlqeni dhe të përçoni çdo emocion që dëshironi me mikrofonin Razer Seiren Elite Streaming.
Përshkrim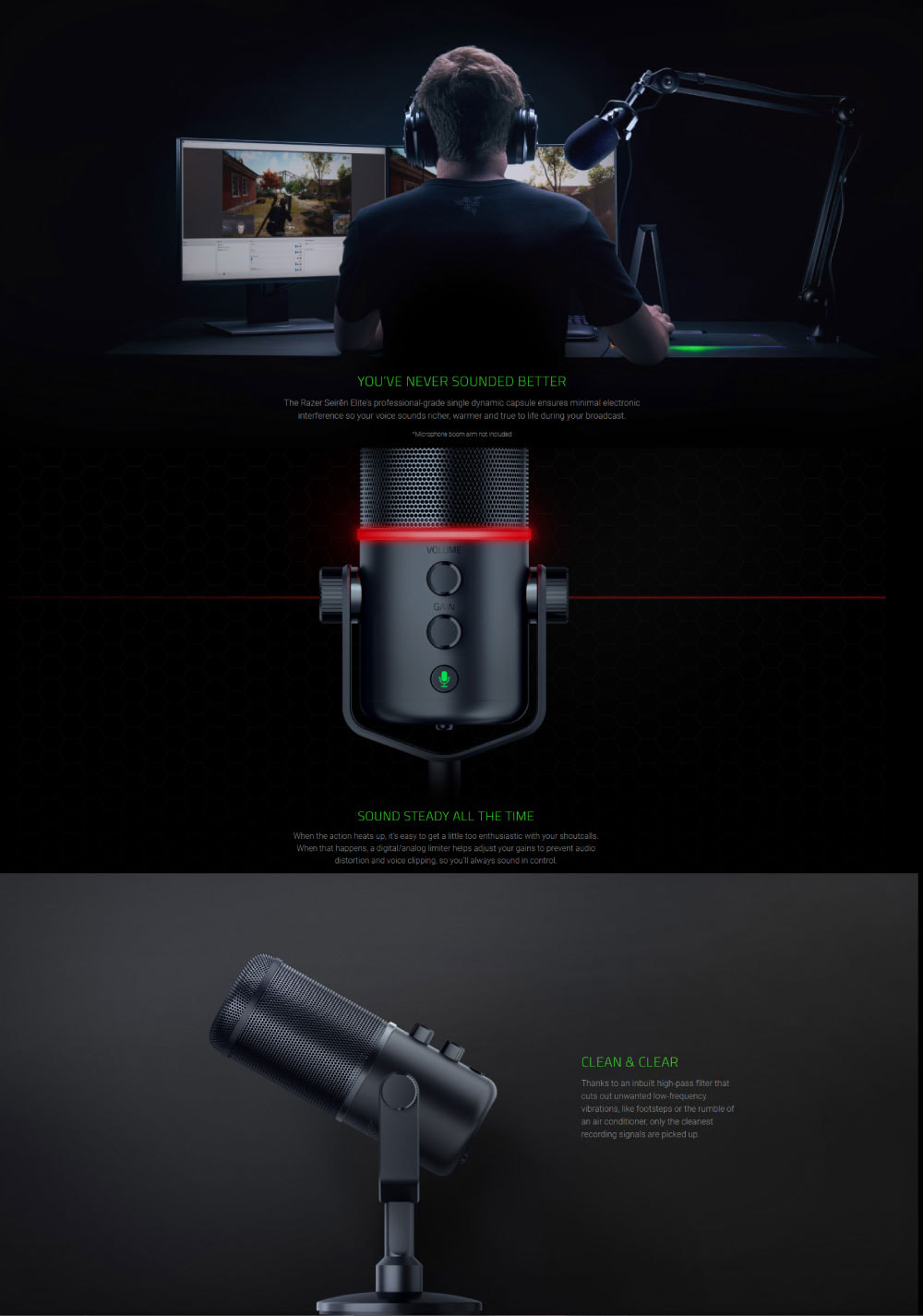 Informacion i detajuar
SAMPLE RATE
Min 44.1 kHz / Max 48 kHz
DIMENSIONS
Diameter x Height
2.37" x 8.84"
60.2 mm x 224.6 mm
System Requirements
Windows 7, 8, 10
Mac OS 10.8 onwards
Features
• ELEVATE YOUR BROADCAST
Being a streamer means connecting with your audience through your own unique perspective. Whether you're sharing game theories or dishing witty commentary, your voice is your ultimate tool in emoting excitement, frustration, and keeping viewers engaged. Now, take your audio to the next level with the Razer Seiren Elite and let your personality truly shine.
• YOU'VE NEVER SOUNDED BETTER
The Razer Seiren Elite's professional-grade single dynamic capsule ensures minimal electronic interference so your voice sounds richer, warmer and true to life during your broadcast.
• CLEAN & CLEAR
Thanks to an inbuilt high-pass filter that cuts out unwanted low-frequency vibrations, like footsteps or the rumble of an air conditioner, only the cleanest recording signals are picked up.
• SOUND STEADY ALL THE TIME
When the action heats up, it's easy to get a little too enthusiastic with your shoutcalls. When that happens, a digital/analog limiter helps adjust your gains to prevent audio distortion and voice clipping, so you'll always sound in control.
Informacione për paketimin
1 x Razer Seiren Elite
1 x 3m USB Cable
1 x Desk Stand
1 x Microphone Windscreen
1 x Important Product Information Guide