Përshkrim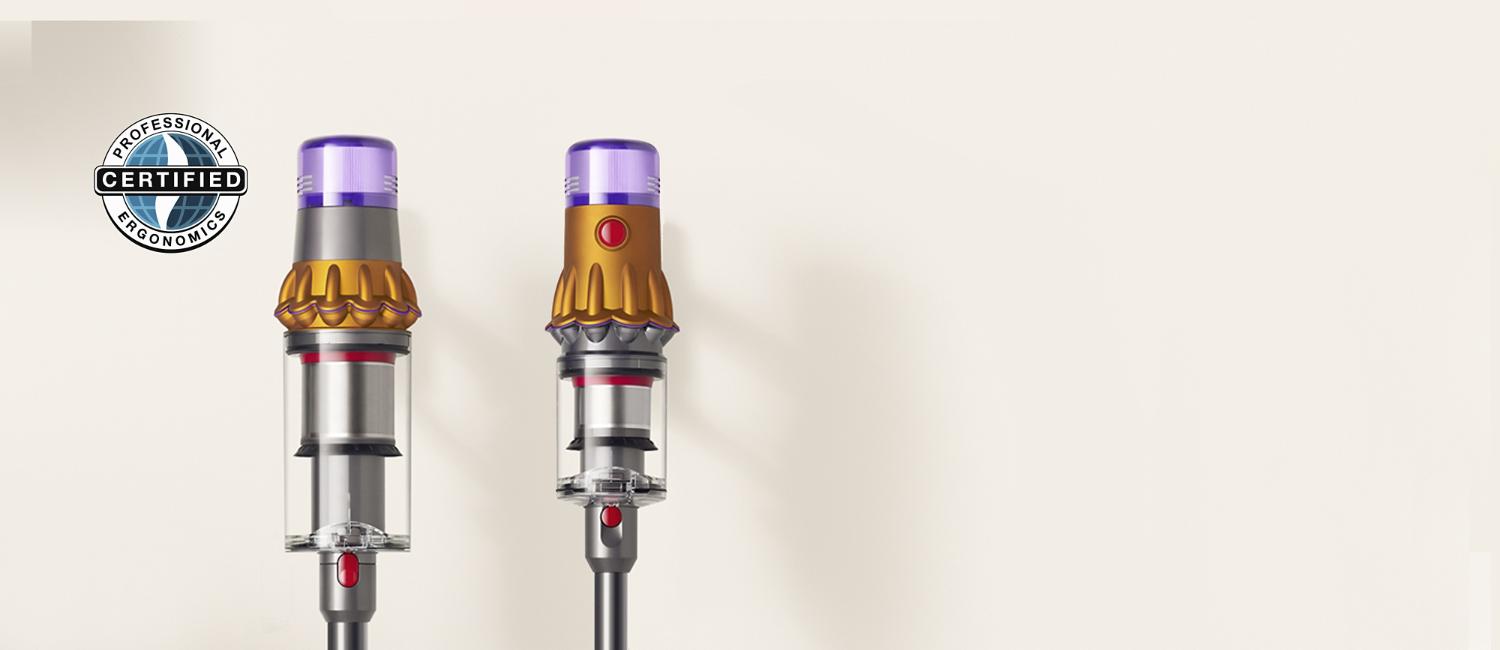 Lighter and more compact means more effortless cleaning
The V12 Detect Slim is 24% lighter than the V15 Detect and powers on with the press of a button, making it easy to switch hands while cleaning. Engineered to be ergonomic and easy to use, it can reach into tight spaces and allows you to clean frequently without a second thought.
Laser Slim Fluffy™ cleaner head has a laser that detects the particles you can't normally see

A precisely angled laser makes invisible dust visible on hard floors – so you don't miss anything.

​ Counts and measures the size of dust particles⁺⁺

A piezo sensor continuously sizes and counts dust particles – automatically increasing suction and power when needed.⁺⁺

Scientific proof of a deep clean

The LCD screen shows what's been sucked up, displaying real-time scientific proof of a deep clean.⁺
Dyson Hyperdymium™ motor

The Dyson Hyperdymium™ motor spins at up to 125,000rpm to generate powerful suction for a deep clean.

Root Cyclone™ technology

11 root cyclones generate centrifugal forces of up to 100,000g to capture dust and debris from the airflow, so there's no loss of suction.

Energy-dense battery

Each click-in battery provides up to 60 minutes of run time to clean everywhere around your home.*
The power to clean anywhere

The versatility of Dyson cordless technology makes cleaning your home easier. Powerful cleaning of floors, hard-to-reach places, and mattresses.

Laser Slim Fluffy™ cleaner head

10-inch-wide cleaner head engineered with soft nylon and anti-static carbon fiber filaments to remove dust from hard floors and narrower gaps. With a low profile to reach further under furniture.

De-tangling Motorbar™ cleaner head for all floors

Powerfully sucks up dust and hair from all floors. De-tangling comb automatically clears hair from the brush bar.​

Hair screw tool. Picks up long hair and pet hair. Fast.

De-tangling conical brush bar spirals hair off and into the bin. Motor-driven cleaning for small spaces.

Single-button power control

No need to hold the trigger. You can swap hands while navigating obstacles, making cleaning easier.

The right cleaning mode for the right task​

Three cleaning modes optimized for a variety of tasks. The right balance of power and run time where you need it.​

Wall dock

The Dyson V12 Detect Slim™ vacuum drops into the wall-mounted dock to recharge it and tidily store the vacuum and tools. Ready for your next clean.

'Point and shoot' hygienic bin emptying

The 'point and shoot' mechanism hygenically ejects dust and debris in one action, so there's no need to touch the dirt.

LCD Screen intelligently reports in real time

Digital display shows run time countdown, power mode, and maintenance alerts, giving you complete control of your clean.​

Easy to maintain

The filter and Fluffy™ brush bar can be washed, and the bin and tools wiped clean, to remove dust build-up and help optimize your Dyson vacuum's performance.

Click-in battery

Remove and replace at the press of the button.

More ergonomic. Less effort.​

Ergonomically designed to require less effort in use. The Dyson V12™ vacuum is United States Ergonomics certified.