SAPO ERDHI
Puluz Double Shoulder Strap For DSLR/SLR Cameras
2,990 L
Kjo mbajtëse përmban një dizajn të dyfishtë të shpatullave që shpërndan në mënyrë të barabartë peshën e kamerës suaj në të dy supet. Kjo ndihmon në zvogëlimin e tendosjes dhe lodhjes gjatë periudhave të gjata të filmimit, duke ju lejuar të mbani me lehtësi kamerën tuaj për kohëzgjatje më të madhe. Mbushja e butë dhe sfungjeri dekompresues në rrip ofrojnë rehati shtesë duke zbutur peshën e kamerës suaj. Ky mbushje ndihmon në zbutjen e presionit mbi shpatullat dhe qafën tuaj, duke e bërë më të lehtë mbajtjen e kamerës për periudha të gjata pa shqetësime. Mekanizmi i lëshimit të shpejtë lejon lidhjen dhe shkëputjen e lehtë të kamerës suaj në mbajtëse. Kjo veçori ofron komoditet dhe fleksibilitet, duke ju mundësuar kalimin e shpejtë midis shkrepjes me dorë dhe përdorimit të një trekëmbëshi ose aksesorëve të tjerë. Rripi është i rregullueshëm, duke ju lejuar të personalizoni përshtatjen sipas madhësisë dhe preferencës së trupit tuaj. Kjo siguron një përshtatje të sigurt dhe të rehatshme, pavarësisht nga forma e trupit ose konfigurimi i kamerës.
Përshkrim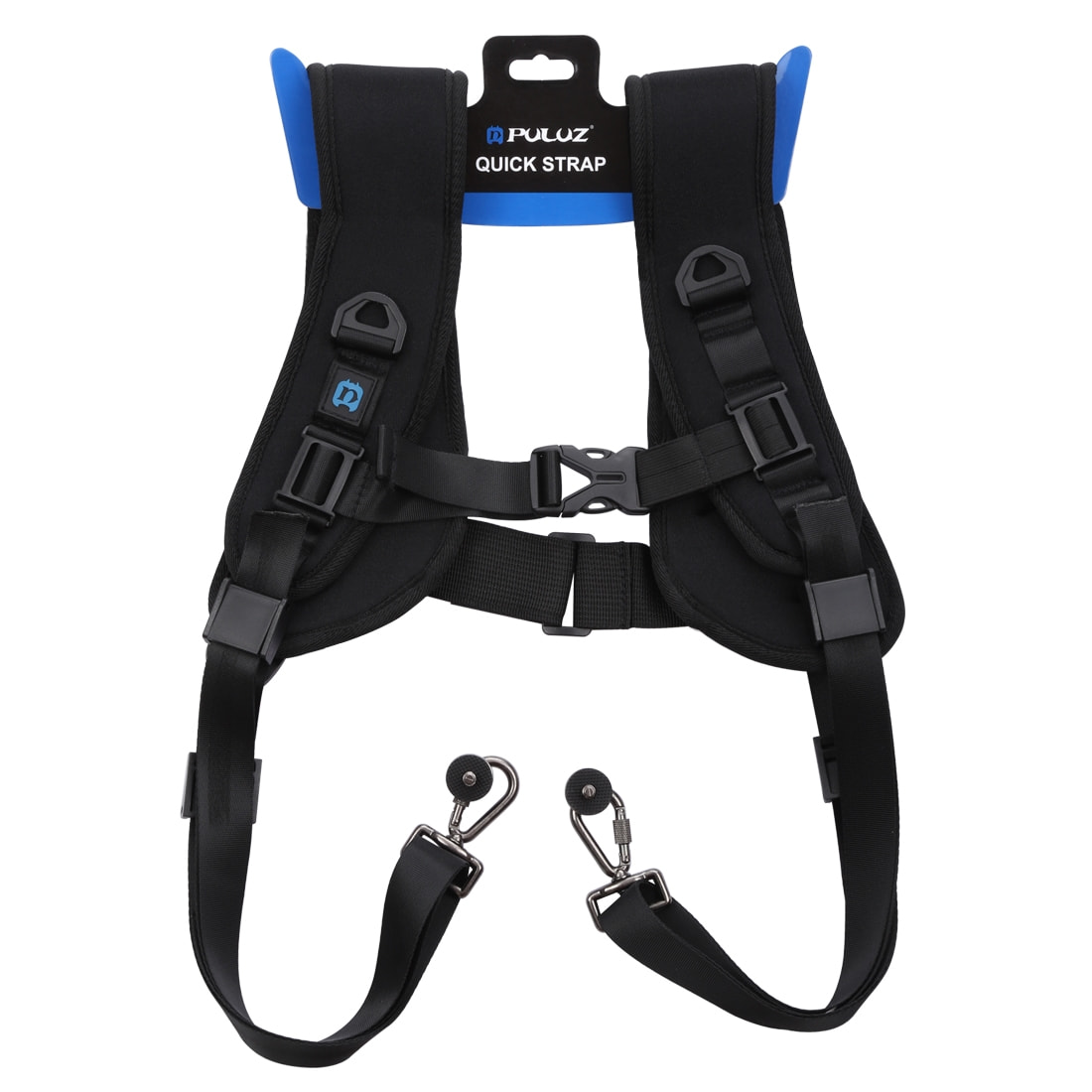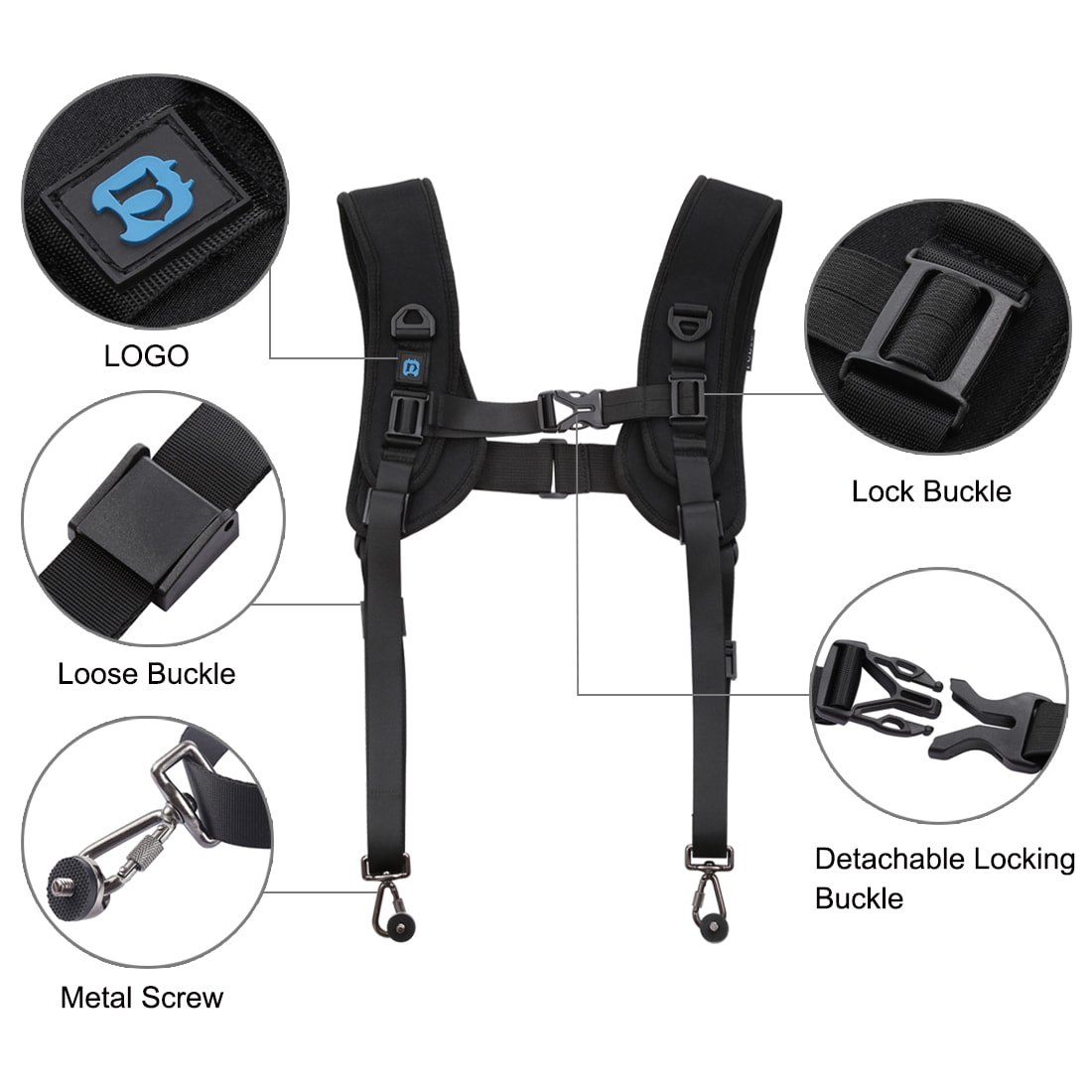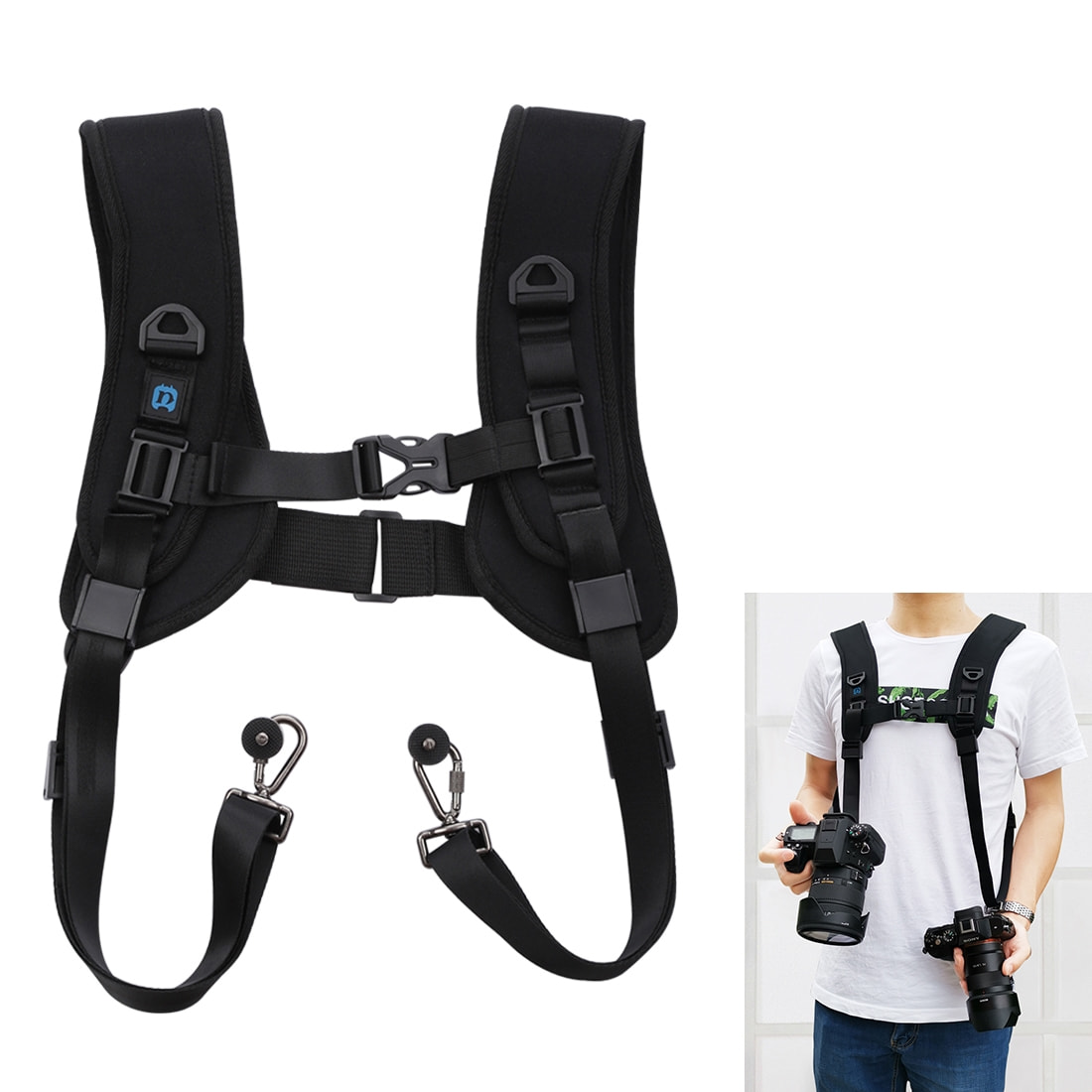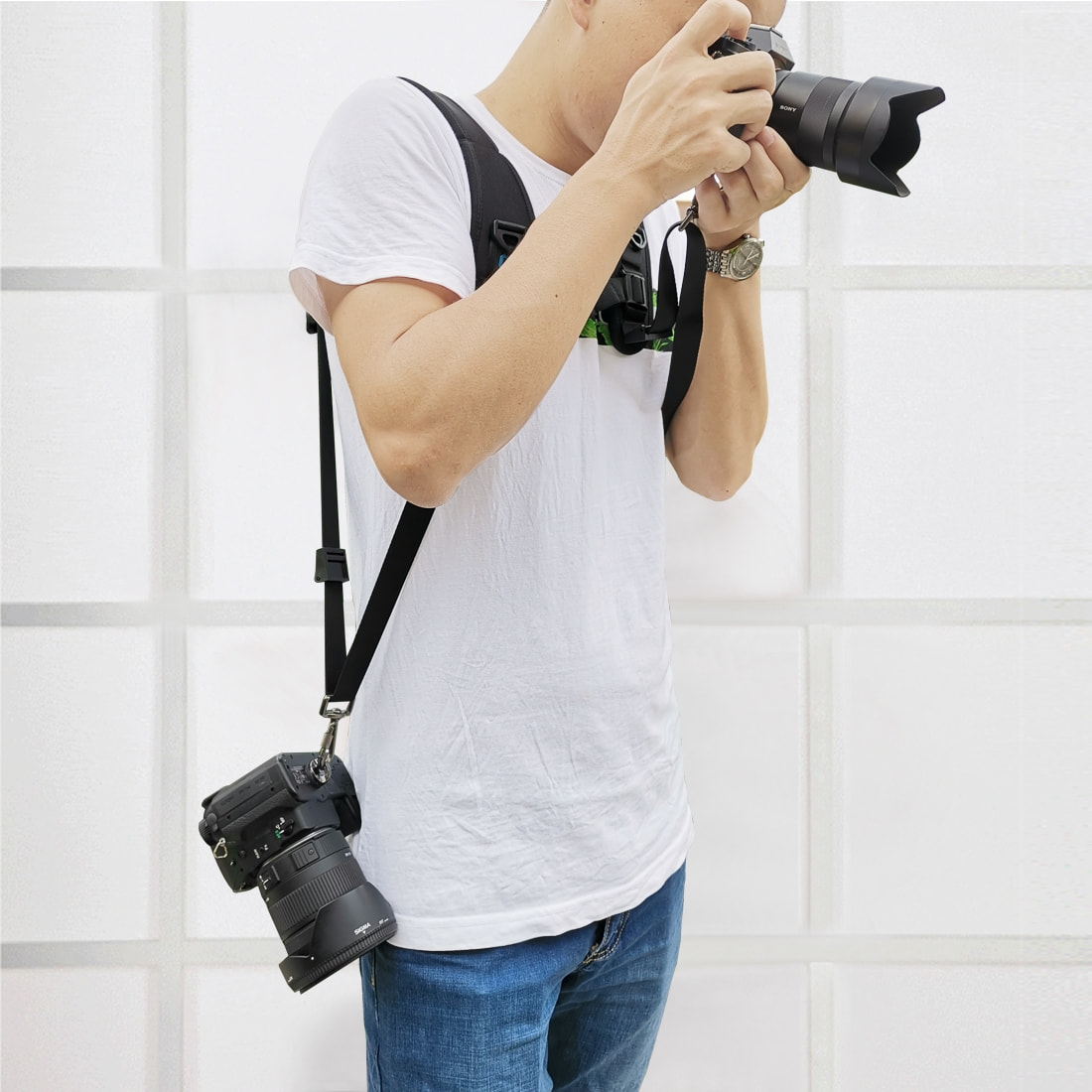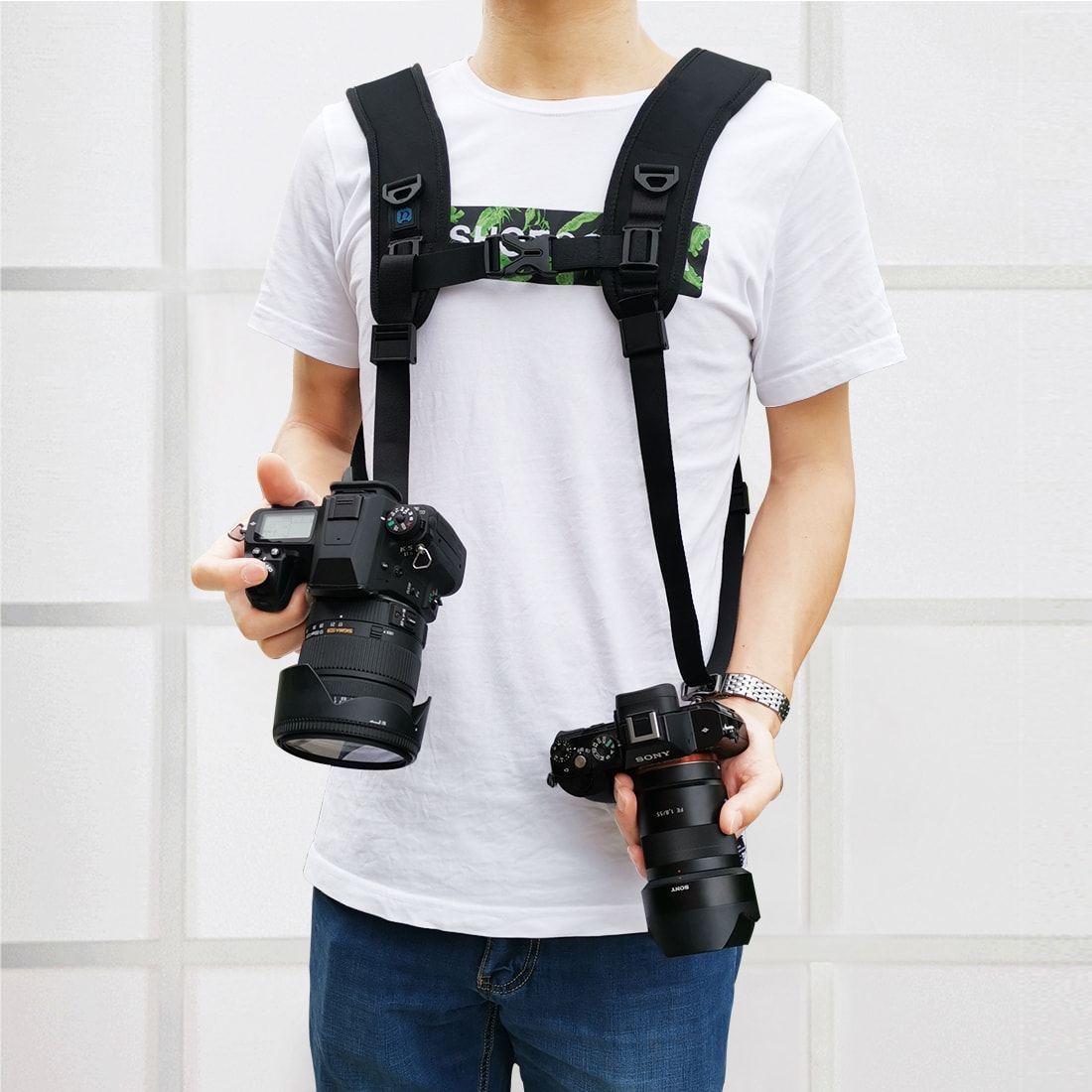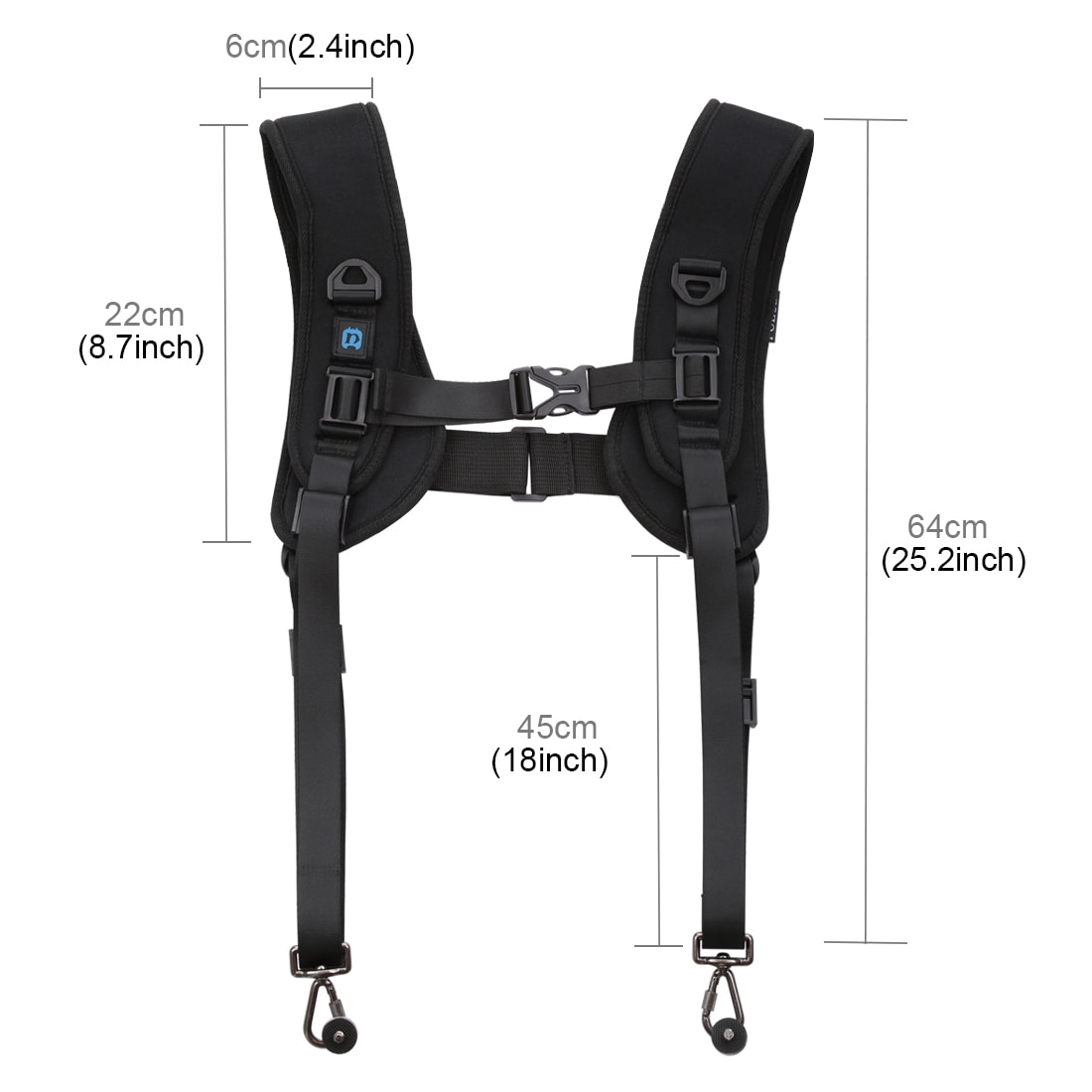 Informacion i detajuar
Features
1. High quality nylon material, is extremely durable.
2. Soft breathe freely padded decompression shoulder foam widening shoulder construction reduces burdening feeling.
3. Distributes overall weight of DSLR evenly across your shoulder.
4. Comes with 2 multi-purpose metal quick release plates which securely connect your camera and the strap.
5. Bumper and buckle on the strap prevents camera from swinging back.
6. With 1/4 inch standard screw, most of DSLR SLR cameras can be compatible.
7. Allow you to carry 2 cameras at the same time and switch between them rapidly.
8. Allow you to quickly reach your camera and shoot in a pinch while the shoulder pad stays in the same position.
Dimensions
Pads Size 46 x 6cm
Strap Size 150 cm
Informacione për paketimin
1 x Camera Strap
2x Metal Screws
1x Manual